Estimated reading time: 31 minute(s)
5 Skin Conditions Caused By Gut Flora Imbalance
Does an unhealthy gut cause your skin problems?
Yes! Your skin and gut microbiome is linked to a variety of skin issues.
Are you struggling with skin concerns like pimples, sensitivity, itchy, dryness, or skin conditions such as acne, rosacea, eczema, or psoriasis?
While the link between gut health and skin health is still being explored, growing evidence suggests that gut flora imbalances can indeed lead to various skin disorders.
In this article, we will take a look at five of the most common skin disorders that are thought to be caused by gut bacteria imbalances.
We will also discuss some of the ways that you can work to restore good bacteria in your gut flora that affect skin health.
What is the gut microbiome?
Our bodies are home to trillions of bacteria, fungi, and even viruses. That's right, trillions! And a lot of these microscopic bacteria live within your gut.
These microorganisms (and their genes) are collectively known as our gut microbiome.
This microbiome is an essential part of our biology that supports many physiological functions, helps maintain the integrity of our intestinal barrier and protects us from allergic diseases and illnesses.
Usually, they go about their business just as we do. But when you have an imbalance, our bodies aren't able to function at their best, which is bad news for our skin health.
Our gut microbiome is particularly vulnerable when an imbalance occurs because of the sheer number of bacteria in the gut. In fact, the gut is home to the most bacteria in the entire body, and they need to be taken care of.
Luckily, there are simple clues to identify whether or not you have a gut microbiome imbalance.
Several common indicators of a gut microbiome imbalance are often mistaken for other concerns that many people usually try to remedy with skincare or topical medications without much success.
In my experience as a functional nutritionist and skin therapist, I understand how the gut microbiome directly impacts your skin and metabolic health.
Before I discuss how to identify and target a gut flora imbalance, I want to explain a range of phrases that will broaden your understanding too. Discussing why you might have a gut microbes imbalance becomes much easier once you know the terms surrounding the issue.
What is Gut Flora?
Gut flora, also known as gut microbiota, used to be called the microflora of the gut.
Hence today the term gut flora is used as a collective term for the bacteria in your gut.
The two terms gut microbiota and gut microbiome are often used to mean the same thing and are used interchangeably but there is a slight difference between microbiome and microbiota. 
The gut microbiota is the actual bugs and the gut microbiome is the bugs AND their genes
What is important for you to understand is that each individual has a different gut flora profile which begins to establish itself before a person is even born!
In part, your gut flora is influenced by genetic factors, what you eat, how much exercise you do, stress levels and several other factors.
Having more diverse gut flora is linked to beneficial bacteria and overall improved gut skin axis.
How important is our Metabolic Health?
Metabolic health is incredibly important. Ultimately, it is at the root of every skin concern.
Your skin health correlates directly to three essential metabolic pathways: your gut microbiome, blood sugar levels and liver function. Together, these pathways form and influence your immune system and metabolic health.
Understanding the role these three pathways play in your skin health is integral to getting to the root of any skin gut axis issues you may be experiencing and overall healthy skin.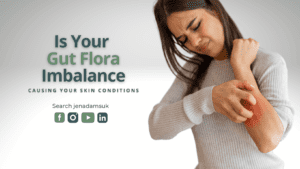 Signs of a gut flora imbalance on your skin.
The following are the most prevalent skin problems that you might not indicate a gut health problem, but if you're attempting to manage any of them with skin care or topical medication and you don't feel you are getting to the root cause of the issue, it is time to consider focusing on your gastrointestinal microbiome instead.
1. Why do I have pimples on my forehead?
Suppose you're experiencing pimples on your forehead, particularly between your eyes and brows.
If this is the case, it could be a sign of a gut microbiome imbalance due to an immune reaction to dairy or gluten in your diet.
Face mapping tells us that the forehead is directly linked to our digestive system, especially the small intestine or small intestinal bacterial overgrowth  (SIBO)
Face mapping: What is your skin telling you? 
When left untreated, this imbalance can develop into intestinal bacteria imbalance. This means that harmful bacteria will start to outnumber the good and create gut inflammation.
2. Why do I have sensitive, dry, itchy skin?
Persistent dry and itchy skin, either on your body or particularly around your nose on the face, can usually be linked to an auto-immune inflammatory response stimulated by your gut flora.
In the presence of systemic gut inflammation, the gut microbiome is unable to protect the gut lining from bacteria, viruses or toxins from the food we eat and the air we breathe.
This increases the risk of tight junctions between the cells in your gut lining letting particles from the bacteria, viruses or toxins enter the bloodstream.
This is known as leaky gut or intestinal permeability.
The presence of these unknown toxins in the bloodstream initiates immune cells to trigger gut inflammation in an attempt to fight back.
This inflammation is felt on your skin as dry and itchy; your skin is trying to tell you that something is happening in your gut.
3. Why do I have eczema?
More often if your skin is showing signs of skin inflammation such as eczema is a key indicator you have been managing gut dysbiosis for a sustained period of time.
Evidence suggests that those with eczema have a microbial imbalance in their large intestine than healthy individuals.
The long term microbial imbalance impacts the ability to absorb the essential nutrients required to maintain skin cell life cycle and integrity, which exacerbates the symptoms of skin disease.
Eczema is a condition that results in the overproduction of skin cells with a short life cycle and is linked to an imbalance of beneficial bacteria and triggers intestinal inflammation by an immune response in an attempt to protect itself.
4. Why does my Psoriasis flare-up?
On the other hand, psoriasis is a condition that results in the rapid buildup of skin cells.
Symptoms of psoriasis are also often made worse when your skin's natural barrier is weakened by inflammation creating transepidermal water loss (TEWL).
TEWL refers to water vapour (which is not sweat) that evaporates from the skin's surface. When your skin loses too much water, it can make skin conditions much worse and harder to maintain.
This may be exacerbated when the skin's pH is too high as a result of additives in skincare products, over-the-counter medicines, and lotions that disturb the skin homeostasis and skin microbiota.
The human skin microbiome immune cells system cannot recognise all of the chemicals in your skincare products.
These substances disturb your skin microbiome, similar to the gut microbiome, and trigger an immune response, which causes redness or swelling on the skin epidermis feeling like a flare-up of itching, flaking, and scaling skin.
Phlathes, BPA, and PFAs are a group of chemicals that include these ingredients.
They're in your skincare products to manage the bacteria while they're sitting on the shelf and opened at home. They're also in your processed meals for the same purpose.
So when you apply your face creams to your skin or consume manufactured foods these are more often the triggers of a Psoriasis flare up due to dysbiosis in your gut and skin microbiome.
Learn the best ways to improve Psoriasis flare-up 
5. Why do I have Rosacea?
A disruption in the skin microbiota is seen in people who have rosacea, which is recognised by redness on the nose and across the cheeks.
This is caused by the tiny blood vessels on the skin's surface expanding.
Rosacea is often called adult acne because the breakouts look like acne, but they're not caused by clogged pores.
Those with rosacea often think their concerns are solely related to their skin, but this isn't the case.
This is where bacteria have invaded the skin and gut microbiome and, in response, fight back with inflammation.
A study conducted in Denmark found that many people who suffer from rosacea also have inflammatory bowel conditions such as irritable bowel syndrome (IBS).
Those with IBS have also been shown to have less diversity in their gut flora, which inevitably leads to a host of other skin health concerns.
There is still much to learn about the gut-skin connection. Still, we know that there is dry, itchy skin, eczema, psoriasis, and rosacea when there is gut dysbiosis.
Article: The Best Skin Advice For Dry Skin
Article: What Causes Sensitive Skin
Article: Three ways to slow down ageing skin
Your skin health is an indicator of your Metabolic Health
I truly believe that your skin health will, more often than not, tell you everything you need to know about your metabolic health. If you're suffering from persistent (or chronic) skin concerns that don't respond to the over counter medication.
It is time to consider your gut dysbiosis as the root cause.
How to improve gut microbiome
You are the only person in control of your gut health, but you need to know where to start to improve it.
You can start by taking note of any changes to your skin and whether or not you notice any of the above concerns flaring up when you eat certain foods or in times of stress, as this is likely to mean that you have a gut flora imbalance and there will have gut dysbiosis.
Food intolerances are more common than most people think, and many people are often unaware that they have one at all.
When left undiagnosed, these intolerances could be wreaking havoc on your gut and skin microbiome.
Your gut flora is likely to improve dramatically by cutting out offending foods, as your gut lining will not be inflamed as often and be given time to heal.
The great news is that once you remove the immune system's triggers, your gut lining and skin cells will begin to repair themselves in as little as five days!
The most common foods that cause chronic inflammation in the human gastrointestinal tract are –
Dairy – cow's milk
Gluten and gluten-free products
Sugars, such as fructose corn syrup and sucrose
Artificial sweeteners, such as aspartame
The most common skin ingredients that cause inflammation in your skin cells are –
Formaldehyde
Phthalates
Sodium Lauryl Sulfate
Ethanolamine
In summary, if you keep attempting to manage dry, itchy skin, atopic dermatitis, eczema, psoriasis or rosacea, with skincare products or topical medication, you likely have gut dysbiosis caused by an imbalance in your intestinal bacteria, also known as a gut flora imbalance.
To address these skin concerns instead of reaching for an on-skin remedy, take a look at your food and lifestyle choices instead.
As these common skin issues are clues that there is gut dysbiosis.
If not addressed and the immune triggers not removed the gut dysbiosis is likely to develop into more severe gut health issues such as a leaky gut, IBD and long term inflammatory bowel disease.
Finally, knowledge is the most powerful tool when it comes to taking charge of your health. If you are worried about your health and gut function and you want to learn more about the importance of your metabolic health, I can help.
One of the best ways to improve your gut function is to learn more about its impact on your metabolic health. Take my Metabolic Age Calculator to help determine the state of your metabolic health.