Estimated reading time: 15 minute(s)
Mesotherapy Serum:
NCTF 135 HA FILLMED
Benefits of Mesotherapy Serum
FILLMED NCTF 135 HA mesotherapy serum creates an optimal environment for creating fibroblast activity to produce collagen and elastin to enhance skin quality to lift, tighten and tone the skin.
The mesotherapy serum creates biochemical reactions as the poly-revitalising solution provides your skin with essential nutrients to regenerate and improve cell membrane strength.
The NCTF® unique formula of 59 active ingredients helps provide your skin with the nutrients it needs to stay healthy and gain radiance.
There are fourteen vitamins in NCTF 135HA. Vitamins A, B, C, and E are just a few nutrients that help stimulate skin cells. 
There are also 24 different amino acids or peptides that aid in the production of elastin and collagen, the two most essential components of the skin's layers, to slow down skin ageing. 
Plus, there are also two anti-oxidants to ensure your skin remains healthy and glowing in times of stress to combat free radicals. 
12 vitamins – Stimulates vital functions of cells

23 amino-acids – Improves the protein synthesis

6 minerals – Improves the cutaneous metabolism

6 coenzymes – Reinforces cellular communication

5 nucleic acids – Makes up for ionic deficiencies

1 antioxidant – Fight against free-radicals

+ non-crossed linked hyaluronic acid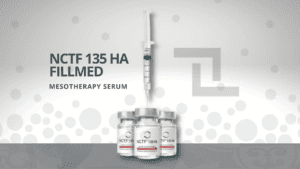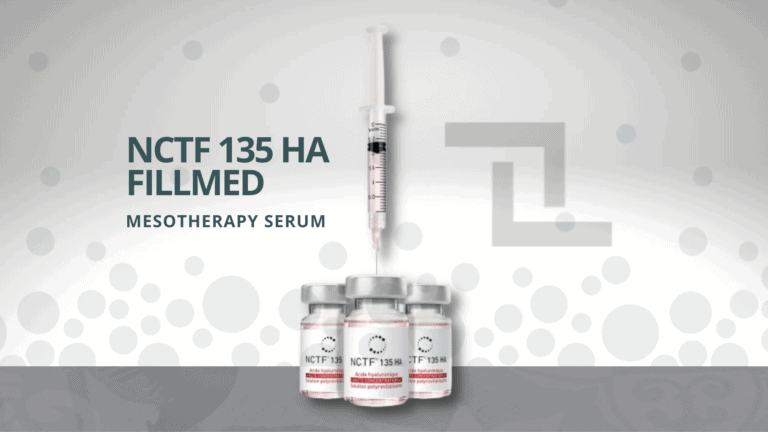 NCTF® means New Cellular Treatment Factor and is the lightweight active molecule that stimulates cell communication within your skin layer enhancing skin health. 
The NCTF 135 HA serum is proven to improve skin quality in some clinical trials. After just four weeks of using the serum as part of their miconeedling treatment, participants felt increased skin hydration and firmness and improved skin tone and texture.
The FILLMED NCTF 135 HA serum is an excellent choice for anyone looking to reduce superficial wrinkles, improve skin radiance, and achieve a more youthful appearance without injectables.
The mesotherapy serum has a CE Mark to confirm its efficacy in microneedling and mesotherapy skin treatments injected into the epidermal layers by professional aesthetics practitioners
It's essential to note that not all serums are the same, nor are they as active when placed into the epidermis like NCTF135HA serum.
When you are microneedling at home and you use your active target serums, they are losing their efficacy as their molecules have been created to be placed on your skin, not in your epidermis.
You will get some benefit from the trauma induced by the needling, but the serums you're using will not add further value to the treatment.
The differences between mesotherapy serums and normal serums?
Mesotherapy serums are medical-grade fluids designed to be injected into the skin, while regular target serums are formulated to be applied to the skin's surface.
Mesotherapy serums contain fewer chemical compounds than regular target serums because they were created to target particular skin cell communications in the epidermis layer. 
Most meso-serums contain specific mixtures of enzymes, plant extracts, and vitamins to help tackle skin health during the developing phase, while target serums will include a wider variety of ingredients to communicate to mature skin cells. 
Mesotherapy serums are also often more expensive than regular serums because of their medical-grade quality and potency. 
Where can you use NCTF 135 HA FILLMED?
The 360° holistic skin rejuvenation approach to skin health advice and clinic treatments has been developed around using this specialised mesotherapy serum to enhance natural beauty.
Skin Rejuvenation is the term created to describe the action of natural aesthetic skin treatments and using mesotherapy serums to prevent, slow, and correct the effects of ageing skin.
When used as part of microneedling treatment, the serum will be placed over the whole face. It will flood the skin cells to encourage the absorption of the nutrients, peptides, and growth factors to give your skin cell strength and become enhanced instantly as this deeply nourishes down to the superficial dermis layer.
NCTF 135 HA can also be used in a mesotherapy treatment and injected into skin cells using a nano-soft needle to focus on marionette lines, wrinkles, enlarged pores, periorbital area, neck cleavage and decolletage. This results in visibly hydrated, clear, smooth, and toned skin.
In summary, mesotherapy serums need a CE mark to be safely injected into your skin for the ultimate beauty treatments as they contain essential nutrients for healthy skin.
The poly-revitalising solution has been proven in clinical trials to demonstrate that Fillmed Laboratories have created a biological and progressive treatment that can enhance skin health and rejuvenate skin to help reduce fine lines and wrinkles and create the perfect skin based regular beauty routine.
In conclusion, Mesotherapy NCTF135HA FILLMED is a nutrient-dense serum that will improve skin health when used in skin rejuvenation treatments such as microneedling and mesotherapy.
What to do next, do you want to improve your home skin care routine with mesotherapy serums or microneedling treatments, but are unsure where to start?
My advice is to take my skin health quiz to find out your current skin health score.
The result will help you understand IF you need to improve your home skincare routine and IF you need skin treatments for that younger firmer-looking skin that you want.
You can claim your copy of the FREE Ultimate Skin Health Guide, which will give you more detail on the 3-Step Method and nutrition advice to help you naturally reduce the effects of ageing at home.
Learn more about your skin health score – CLICK HERE