FILLMED Skin Perfusion
Is it time for you to step up your skincare?
Not sure where to get honest and open advice, and which product range to use?
My advice, think of your skin care routine like your wardrobe and invest in a few high-quality items to get the best look at the fraction of the cost.
As part of my Skin Health Clinic, I have created a simple home skincare routine based on FILLMED's approach to improving skin quality at home as well as in the clinic.
Following the 3-Step Method, skincare protocol can be for every day, post microneedling at home or post aesthetics treatments to correct the signs of all ageing skin concerns; Hydration, radiance, wrinkles, firmness and blemishes by improving your skin health.
The 3-Step Method focuses on the health of your skin cells rather than making recommendations based on your skin type or resorting to dermal fillers to address superficial wrinkles, mature or slack skin. You can follow it using your existing products, investing in others or Fillmed Skin Perfusion.
Learn more about skin health…
To improve skin quality it is wise to look at the 360° Skin Rejuvenation approach as topical skincare is only a small piece to the puzzle of slowing down the effects of ageing.
In this article, I want to share with you the history and why I have chosen Fillmed to create my 3-Step Method for younger looking skin.
As a functional nutritionist and aesthetic skin therapist, my clinical experience combines the benefits of skincare products with the biochemistry of personal nutrition to give you the most effective way to slow down the effects of ageing on your skin.
Why did I choose Fillmed Laboratoires?
FILLMED laboratories is an innovative cosmeceutical skincare product range designed to maintain and enhance results from in-clinic skin rejuvenation treatments by using hyaluronic acid and high-performance active ingredients in all their products for medical aesthetic professionals.
The history of Fillmed is that back in 2019 Filorga was made up of 2 parts; Filorga Skincare, available over the counter in many pharmacies and department stores, worldwide and Filorga Medical, consisting of prescriptible skincare, used in aesthetic clinics.
Filorga's Founder, a french doctor called Dr Michel Tordjman, was way ahead of his time when he founded the laboratory and focused on aesthetic medicine since 1978 and went on to create the anti ageing mesotherapy product called NCTF®, New Cellular Treatment Factor.
This is a unique, injectable solution that can slow down the effects of skin ageing via intense revitalization due to the high molecular weight is now available to aesthetic practitioners and clinics worldwide.
Learn more about the mesotherapy serum NCTF135 Ha
Dr Tordjman's innovations were to provide dermatologists and medical professionals of aesthetic medicine, with an extensive range of treatment solutions: peels, hyaluronic acid injections, mesotherapy and skincare.
Tordjman's expertise in cellular biology and the philosophy that 'aesthetic medicine can be natural' even though it is made in a laboratory has put this cutting-edge skincare brand at the forefront of people's minds when it comes to smoothing away deep wrinkles, fine lines, crow's feet and all age-related skin concerns.
When Filorga Skincare was sold to Colgate in 2019, Filorga Medical was rebranded and FILLMED launched.
The strap-line is Beauty is an Art, We made it a science.
The branding was developed based on a Chanel look to give that french luxury cosmopolitan feel to skincare.
The products are formulated from only high-grade active ingredients in optimal concentrations, creating a highly effective professional skincare range that can ensure safe natural looking results.
Due to the clinical approach of creating targeted formulas for cell regeneration all the products have undergone studies to show efficacy and tolerance with proven results they work and are safe to use in aesthetic procedures.
As well as the Fillmed NCTF mesotherapy serums they have developed a skincare line called Skin Perfusion. This is a professional range of in-clinic and take-home products for all skin types designed to enhance the results of aesthetic treatments and to offer a complete solution for in-clinic use followed by maintenance at home.
The Skin Perfusion featured products comprise a small, prescriptive approach to the most common skin concerns; wrinkles, radiance, lightening, brightening, tightening, ageing.
With different active ingredients to restore volume, fill wrinkles and enhance skin quality these anti ageing products are the perfect solution to the combined therapies approach to skin care.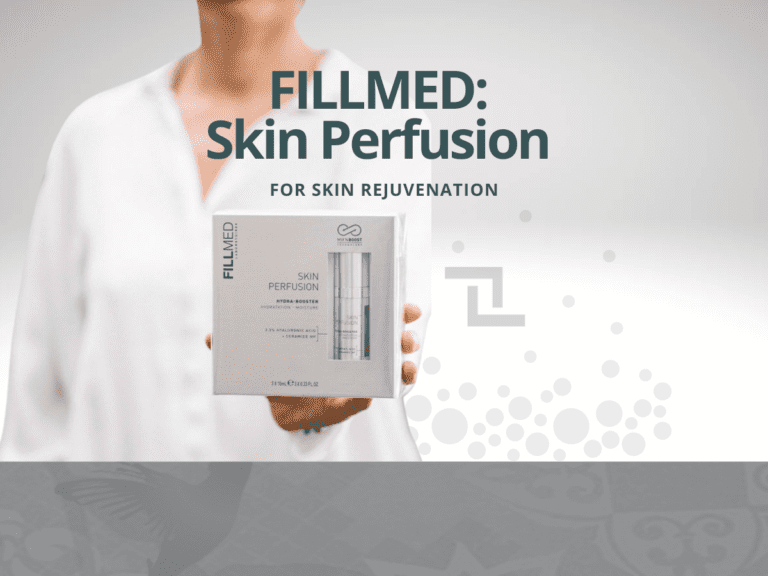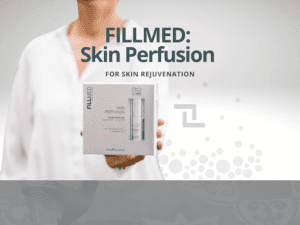 5 Fast Facts About Fillmed products
Fillmed skincare is clinically tested and is 100% paraben-free.
Fillmed products contain their world-famous NCTF ingredient that's made up of hyaluronic acid and at least 12 vitamins, 23 amino acids, 6 co-enzymes, 6 minerals, 5 nucleic, 2 antioxidants for skin health.
Fillmed NCTF 135ha formula started as an injectable and is now available as mesotherapy serums
Fillmed uses chromosphere technology, which means each molecule of the NCTF 135 ha is small enough to penetrate between layers of your skin.
Fillmed Skin Perfusion products are a combination of expertise in biology, dermatology, aesthetic medicine and cosmetology, making it the perfect range for anyone serious about tackling age-related concerns, no matter the skin type.
In summary, the 3-Step Method to improving skin health rather than targeting your skin type comes from a medical aesthetic approach to skin rejuvenation rather than just maintaining your ageing skin.
Fillmed has created cosmetic treatment solutions for in-clinic and at home, so as a medical aesthetic professional when carrying out aesthetic procedures I have a complete solution to offer my clients that can be used in-clinic and then followed up with continued use of Fillmed skin perfusion products post-treatment.
This clinical approach to skincare has been tried and tested with excellent results so you can be sure that when using Fillmed products you are getting the best possible outcomes for your clients.
What to do next, do you want to improve your home skin care routine but are unsure where to start?
My advice is to take my skin health quiz to find out your current skin health score.
The result will help you understand IF you need to improve your home skincare routine and IF you need skin treatments for that younger firmer-looking skin that you want.
And you can claim your copy of the FREE Ultimate Skin Health Guide, which will give you detail on the 3-Step Method and nutrition advice to help you naturally reduce the effects of ageing at home.
Learn more about your skin health score – CLICK HERE